ABOUT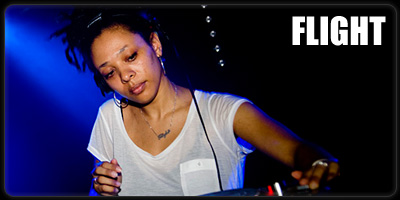 Born in West London and raised in South, DJ Flight's love affair with music spans her entire life. Growing up on a varied diet of Pop, Reggae, Hip Hop, Soul and more, her arrival at secondary school witnessed the beginning of a strong relationship with the burgeoning Acid House scene of the late 80's. With an education owing much to pirate radio, she witnessed the rave genre's evolution through Acid House to Breakbeat Hardcore and Jungle and made her first tentative steps into the club environment at the tender age of 15.

Something of an epiphany for Flight, she fondly echoes the sentiments of so many by recalling how the dancefloor gave her a first real platform for self expression. By the time she arrived at college Flight was a regular face at a variety of seminal nights including Desire, AWOL and Innovation; it was at the latter of these that she would experience her first DJing inspiration, the sight of Kemistry and Storm on the decks. Stirred by the selection and individuality for which the pair would become famed, Flight's journey took her to the legendary Metalheadz Sunday Session, a decision that in time would prove shrewd beyond her wildest dreams. Over time, Flight found herself increasingly fascinated with the ways the music was delivered to the crowds and inevitably made her first vinyl purchase in the summer of 1996. 1997 saw the start of some concentrated mixing practice, together with a now dangerous wax addiction and desperation to keep pace with an ever-accelerating scene. Her deepened involvement saw her offered a job at Battersea record shop Trix Trax, and it was around this time that Flight's first mix tapes found themselves in the hands of her peers' The very first of which was given to Storm & Kemistry. Her regular attendance at Farringdon night PM Scientists soon landed her a job at P.R company Phuture Trax, in turn giving rise to her first club booking in November 1997... The humble surroundings of a Soho wine bar where she stepped up alongside Matrix belied the scale of what the future would hold for the fledgling Flighty. 1998 witnessed a multitude of bookings, announcing her presence firmly on the DJ scene alongside a weekly show on Rinse FM (previously Pressure FM) with Stamina MC; guest slots later followed on Rude, Tidy FM and Kool, together with Internet stations Interface and UK Rumble.

Flight pinpoints her first real 'big break' down to one fateful night in 1999 at midweek night Swerve, when learning of Kemistry and Storm's intentions to bring another girl to the camp. The mix tape she provided eventually found its way into the hands of Goldie, in turn awarding it the ultimate endorsement and welcoming her to the mighty Metalheadz roster; a residency at the Sunday Session at Dingwalls soon followed. Before long Flight would strike gold again after handing in a couple of tapes to Sarah Sandy at Groove Connection with the aim of bagging a set or two at Swerve itself. A residency beginning in January 2000 gave her the platform to play alongside one of her greatest inspirations and all time favourites, Liquid Funk maestro Fabio. With residencies at two of the most prestigious events in Drum'n'Bass on her C.V Flight soared with a number of international bookings next on the agenda, bringing her selection to the likes of Austria, Finland, Germany, Holland, Hungary, Italy, Norway, Poland, Russia, Switzerland and more in Europe; also across the U.S.A, Canada and Japan. On the domestic front she found herself in demand at major promotions including Creamfields, Locus, Movement, Bulletproof, Hospitality, Repercussion, TOV, Warning, Bassbin and Valve, together with residential slots at the Prototype and Kaos events at Fabric and at Space Breakz in Frankfurt, Germany. Top level endorsement of her DJ skills have materialised elsewhere over the years from scene architects Reinforced Recordings and renowned purveyors of smooth grooves Defunked, in respective requests to mix their 'Battle Of The Breakz Enforcers' and 'Mind, Body & Soul' compilations. These projects cemented Flight's reputation as a streamlined, smooth mixer and embodied the regard in which she had come to be held. The advent of DAB Digital Radio brought about the next major break for Flight in 2002, when asked to submit a demo for a new station from the BBC' Several demos and meetings later saw her welcomed to the 1Xtra Drum'n'Bass team.

After impressing executives over a three month trial period weekly show 'The Next Chapter' became her own, allowing Flight to continue pushing her own brand of fresh, deeper shades of Drum'n'Bass on a regular basis to an audience spanning the whole of the UK and beyond. The show welcomed household names varying from Dillinja and Intalex to Calibre and Storm, while devoting invaluable airtime to fresher talent like Martyn, Visionary, Cyantific and the Future Sound Of Cambridge collective. A firm believer of nurturing fresh talent, she also debuted many up and coming producers' tracks on the show, while devoting thirty minutes of airtime a month to an up and coming DJ in her Breaking New Talent competition feature. With Drum'n'Bass now well represented on 1Xtra the station took a step up in 2004, extending the previous year's XtraBass weekend festival into a week long event that saw Flight and her fellow station DJs tour the UK celebrating all that is good about their music. The project reached a climax in 2007 with the inaugural XtraBass awards, a hugely successful London-based ceremony co-presented by Flight and L Double and attended by the drum glitterati in their droves. However, this driving new vision was soon to reach a tragic and untimely end later in the year after boardroom changes at the BBC slashed programming for Drum'n'Bass and several other niche urban genres, in turn witnessing the departure of Flight and a number of other DJs from the station despite wide-ranging public protest. By spring 2004 Flight had felt it was time to progress further and began the search for fresh impetus, venturing into the studio accompanied by the engineering talents of Breakage. Producing under the pseudonym 'Alias' this collaboration of creative minds proved to be an instant winner, label bosses Doc Scott and Kasra snapping up the first two efforts for their 31 and Critical imprints respectively.

Enthused by these tracks' reception, Alias made increasingly frequent returns to the studio resulting in signings to Critical, Bassbin and Scientific Wax. Her one remaining vision in the mission to deliver her sound worldwide manifested itself in the formation of Play:Musik, a label set up with business partner and friend Paula Andrews in 2005. With a simple but pronounced ethos of putting out quality music, the first three releases covered a wide range of Drum'n'Bass tracks drawing influences from Detroit Techno, bass heavy dancefloor and Reggae/Electro vibes, in turn bringing through up and coming artists Martyn, Heist and Visionary. When citing her inspirations within Drum'n'Bass, Flight specifies a wealth of household names varying from likes of 'Grooverider for tearing out the Blue Note Sunday Sessionz, Randall for his impeccable mixing, Doc Scott for his originality and Bryan G's no-nonsense DJ sets'. Outside of her chosen poison, she is still very much into Deep House, Disco, Techno, Dubstep, Broken Beat and more, all of which she buys fairly regularly and mixes when she has the chance. Recent years have seen Flight booked for an increasing number of non D&B sets under the 'More Styles' moniker, spreading her wings accordingly at Sardinia's Sun & Bass festival and the renowned European Jazz Expo; BarGuru in Athens, while club level residencies have maintained the brand at D&B events Metalheadz, Grace and Feline, aswell as an additional residency being added at In Session (previously Club Percussion Sessions). Meanwhile, London based event 'Unorthodox' has seen her collaborate with Bailey and Equinox for a regular forage around the world outside of Drum'n'Bass, spanning Rock, Hip-Hop, Funk, Soul, Reggae, Rare Groove and whatever else floats the aforementioned residents' collective boat!